Article
Vanquish Water Vapor Ablation System featured in Minnesota Physician Journal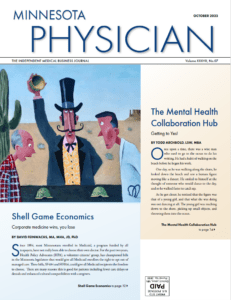 We're pleased to announce the October 2023 issue of Minnesota Physician features an article by our CMO, Dr. Christopher Dixon, on our Vanquish Water Vapor Ablation System for the treatment of prostate cancer.
Discover this breakthrough technology's accelerated path to commercialization, what the patient can expect to experience, the three Minnesota sites (and their investigators) participating in our ongoing VAPOR 2 pivotal trial, and more.
About Francis Medical
Francis Medical is committed to developing urological cancer treatments that are tough on cancer and gentle on patients, with a compassionate belief that minimally invasive therapies can effectively treat cancerous tissue. The company's foundation is a tribute to and legacy of the inventor's father, Francis Hoey, who endured prostate cancer treatments that had harsh implications on his everyday living before the disease took his life in 1991. Unfortunately, current prostate cancer treatments are not much different from what Francis Hoey encountered, with the typical side effects including urinary incontinence and erectile dysfunction. In contrast, water vapor technology applies the thermal energy stored in sterile water vapor to cancerous tissue via a simple transurethral procedure, potentially minimizing life-altering side effects. For more information on Francis Medical, visit www.francismedical.com or call (763) 951-0370.